11:00am - 1:00pm Via ZOOM
Please note that the Zoom Broadcast is located in the 2019-2020 Faculty Senate Resources page.
Chair-elect Joel Hockensmith, acting as Zoom moderator, declared 93 participants logged into the Zoom meeting.
11:03 a.m. Chair Ellen Bassett called the meeting to order and shared a screen with guidelines for the meeting and read the screen into the record.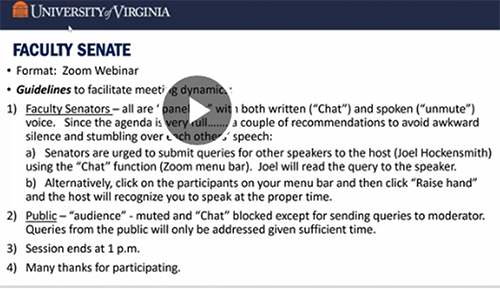 President Ryan and Provost Magill Updates
The Chair recognized President Jim Ryan.
President Ryan: Sincere thanks to Faculty for the work they've done so far in moving things in line. Focused on four main areas:
Health system readiness. Testing capacity and surge. So far there are only about two dozen cases in the hospital. Social distancing and sending students home were big part of this. The Health System has suffered losses.
Mitigating the damage from pandemic.

Weathering so far. Lost revenues. Hiring freeze, salary freeze, capital projects put on hold.
Health System losing $3MM per day and leadership/physicians are taking pay cuts, furloughs for staff. Can't exaggerate threat to the health system. Not easy steps to take, responsible steps to take, short term sacrifice will pay in long-term stability.

The Fall semester. Provost Liz Magill is chairing committee as to what the fall will look like. Latest date to decide is mid-June. Studying and weighing under what conditions we can bring students back to Grounds safely and offer courses in person.
How can we support the community? $1M to students facing financial hardship. Helping out furloughed contract workers and our staff facing hardship. Donated $1M to C'ville Area Community Foundation as well. Louis Nelson (VP Academic Outreach) has established a volunteer hub. Launching a partnership with local food hub to address issue of Food Insecurity. Efforts to establish a tutoring service for local students. Took Arts on the Hill and turned it into digital edition.
The chair recognized Provost Liz Magill.
Provost Magill: she added her thanks to faculty for pivoting to on-line teaching in only eight days. Full of gratitude for what faculty, staff, and students did to make it work.
Fall 2020 group: we don't control the virus. Safety of community as a whole is first priority. Not lost on anyone the financial impact on the entire community. This limits our capacity to deliver our core academic mission of teaching, clinical care, service, and research.
The safest date we could open and under what circumstances. Pat Lampkin and Dr. Mitch Rosner are leading this examination. Mitch is the chair of Department of Medicine and has oversight of our infectious disease doctors. As part of their work, they are considering: When is it safe to return and under what conditions? They are thinking about risk mitigation strategies, testing, contact tracing, social distancing, quarantine and isolation. And across all these dimensions they are thinking about students, faculty, and staff.
McIntire Dean Carl Zeithaml and Archie Holmes, our Vice Provost for Academic Affairs, are leading a work stream around academic contingency planning, including the planning for multiple scenarios about when we might open.

This scenario planning includes considering an on time opening with some social distancing requirements, a delayed start, and completing the entire semester online. 
Carl is working with each of our deans to look at their planning
– where are there points of convergence, points of disagreement
– and will report back to our committee.
14 senators have been doing focus groups with faculty. Any input, any knowledge, any ideas, we're looking for the best and brightest - please send to me.
Questions

Question: What about those programs scheduled for the summer?
Magill: Announced summer session 1&2 are on-line. Actively thinking about it. Academic offerings, camps, programs, orientation all take place in July. Would appreciate input if anyone has it. Fall 2020 – looking at what kinds of mini-studies are out there for going back to school. Research team is acting as part of study of what opening looks like. What mechanisms have to be put in place to open?
Question: Are moneys available from endowments.
Ryan: Very little room as endowments are restricted to particular uses: Faculty chairs, endowments, and student aid. Even if you had $8B you could only spend 4 percent of that. Don't have option as very little in endowment is discretionary.
Question: Walter Heinecke – Why isn't Faculty Senate more central to the planning?
FS is the only group who represents Faculty. Why isn't the EXCO of FS represented on the work stream committee. So they can report back directly to the Senate.
Magill: Send the name. Any name of anyone who wants to be involved. Joel and Ellen gave us names.
Question: Brian Pusser – Thank you Jim and Liz. What happens to faculty renewals and promotions will be handled in the year?
Leadership and deans create one policy across the university.
Magill: She said a letter will go out from her which describes how the University will work with facility on cross-school policy. Equity across the institution.
Question: Where do grad students and post docs come into play?
Ryan: Part and parcel of academic contingency plan, imagine scenarios where not all students come back at one time. May be easier for Postdoc to come back earlier.
Magill: Timing may be different for grad students, PhD, Post doc, may be different in the ramp up for research.
Approval of Minutes:
The Chair submitted the minutes for approval.
Jim Fitzgerald move to accept the minutes.
Alec Horniman seconded.
The motion passed acclaim (by raising hands on the computer tally)
Committee Reports
Academic Affairs

The Chair recognized Aaron Bloomfield Academic Affairs committee chair.
CLAS Psychology offering a new degree which passed AAC unanimously. The current degree is a Bachelor of Arts degree and following other peer institutions they are creating a new Bachelor of Science degree in Brain and Behavior Sciences. This is in line with what other institutions are doing.
Bloomfield brought to floor.
Brian Pusser seconded.
Discussion: Peter Brunjes said the move should have been done 20 years ago.

For 48 Opposed 1 Abstentions 0
Motion Passes.
The School of Data Science is requesting a new minor in Data Science. It passed ACC 8 for and 3 against. Contention centered around the admissions criteria. Stats and Data Science disciplines will overlap. A solution was worked out by all parties. Bloomfield felt they could coexist. Bloomfield brought to floor.

Peter Brunjes Seconded.
Bloomfield amended the minor to read:
The Data Science proposal shall be modified to set an appropriate cap on the number of students admitted into the minor. Should more students apply than there is space based on the cap, the students admitted to the minor will be by lottery of those who meet the minor's pre-requisites.
Bloomfield brought to floor.
Peter Brunjes seconded.
There was some discussion as the minor makes sense to offer, but there will be data science minors across all schools at some point. How will the university handle the traffic on this?
Bloomfield said there may be naming issues in the future, "who owns the name" as there are not hard or fast guidelines. A lot more crossover in the years to come.
Philip Bourne, Founding Dean of the School of Data Science, said there will be some crossover but the School of Data Science is here to raise all boats and has consulted across other disciplines and will continue to do so.
There was a question of how the (tuition) money would flow to different schools.

More discussion about finance. Tuition generates revenue for all schools, it's a pool, one wins. Data Science is not disturbing the model.
Questions from senators: Do other units use lotteries? What does this mean for competitive programs if students see they can enroll in a non-competitive school? Why does UVA have two enrollment systems?
Chair: This is a policy question.
Archie Holmes, vice provost for academic affairs: Initial thought – Most admission process is competitive. This model is different. Love to have a conversation. Don't see units getting rid of the competitive admission.
Bourne: The post-Covid world is going to increase the desire for more Data Science. Data Science is going to ramp up capacity as soon as they can so this will only affect the first couple years.
Are we setting a precedent?
Holmes: Not aware of anyone using a lottery. Media studies reduced their numbers one year and had to work with this.
There was continuing discussion that the move would be setting a precedent for admissions.
Holmes: Easy to change as a process if the administration is against it. Holmes didn't see the university ending the competitive application process as many thousands of people apply to UVA and the process is competitive.
There was a point of order over why there was an amendment.
Bloomfield: To avoid a delay to offering the minor in the Fall, the amendment was included. Brunjes said this is an interim solution and would not be an issue in across the university.
Bourne pointed out any further delay would create issues with hiring with serious ramifications. There is an agreement in place to have a data science minor. If the process needs to be sorted out, go ahead and work on that, but approve the minor.
There was a suggestion to vote down the amendment and approve the minor.
Data Science is more concerned with student experience, and in making sure they can hire enough faculty.
Suggestion that the lottery is more equitable than a pure cap.
And another suggestion that if schools have a problem with building diverse and quality, they need to figure out a better way than lotteries.
This is the first undergraduate minor proposed by Data Science, this could matter in other programs.
Holmes was asked if the lottery could change from lottery to cap or cap to lottery. He did not know and wanted to reach back out.
The Chair said the schools worked this out together and it would be great to move forward.
Bourne said this affects how the school will develop. This has been led to cooperation and the agreement shows how we will work together.
Vote on Amendment
The vote was 46 for the amendment. There were 6 against. Abstentions 2.
The amendment passes. There was no discussion on the amended proposal.
The vote was called.
The vote was 53 for the amended proposal. Tally: 1 against. Abstentions 3.
The minor passes.
Bloomfield said there were a number of proposals passed by the streamlined process.
CLAS/Classics: Concentration in Greek and Latin.
Architecture: Distinguished Major in Urban & Environmental Planning.
SCPS: discontinued the Digital Marketing Certificate
SCPS : discontinued the Procurement & Contracts management Certificate
Medicine, Nursing, & Commerce offering a Graduate certificate in Healthcare Leadership.
Diversity and Inclusion Committee
         Have not been meeting.
Finance Committee
         Chair Brian Pusser – Working on a shared tuition plan. Prepare something for the next year.
Faculty Recruitment, Retention, Retirement & Welfare
         Chair Allen Beckenstein said they have not met but commended but committee members on sharing names with Holmes.
Policy Committee
Chair Peter Norton said there continues to be a long-term discussion about the Academic General Faculty, but will not be reported on until 2021.
Research, Teaching & Scholarship Committee
Nothing to report
Ad Hoc Committee (Scope of Work)
         Chair Aniko Bodroghkozy said in the current environment getting bandwidth is tough. Will wait until next fall.
Library Committee
         Chair Hockensmith said he has not been able to schedule meetings. Will continue to work.
BOV Ad Hoc Committee
Chair Sarah Stewart-Ware said a meeting is in the works.
Faculty Senate representation on Administrative Planning Committees
Brian Pusser asked the chair if she needed support of the Faculty Senate to get people at the table.
The Chair stated if the Administration did want to ask leadership to the table as a part of the planning they would have asked in the beginning. Leadership is asking people who could move more quickly and could be controlled and are more malleable. There were sympathies for the situation and disappointment. There was a point made that there is no faculty database which shares the expertise of faculty.
Rob Patterson said define what faculty means; some may be more aligned with administration.
The Faculty Senate may want to answer the question: What does it mean to have faculty representation in times like these?
There was discussion about how the Administration treats the Faculty Senate.
When there is a crisis the situation acts like an X-Ray on how things really work at an institution. There is a shadow senate. The faculty members who are chosen to be on the planning are not tethered to the Faculty Senate. Issue: Faculty chosen to work on Covid planning are not directly accountable to the Senate. This (Covid planning) is a chance to work on shared governance at the university.
It was pointed out this is also a new administration, and in some ways new to university wide administration. Push to get commitments so we are clear it's good symbolic politics to add faculty. If there is faculty expertise, the administration should utilize that expertise. Ask them how they feel on the record about faculty representation. The Chair said she'd be willing to send an email to the provost to offer our services.
Board of Visitors Update
Peter Brunjes said the BOV has been meeting often. General workflow is the President's Office puts a plan of action together and the BOV acts on it. BOV has an unbelievable commitment to the University. Work very hard to stand behind the President and the most important thing is to think three years ahead. Don't make plans now that harm us in the future.
Resolution: Academic General Faculty
Sent to Administration:
In light of the recently announced extension of reappointment and tenure review schedules by one year for the tenure-track faculty (reserving to faculty members the right to opt out), we urge that reappointment and promotion schedules be similarly uniformly extended for the academic general faculty (with same opt-out right).
The Chair said there was a lot of email discussion by the faculty senators. The admin said there is so much variance in contracts, there could not be a university-wide policy. The resolution was sent and ask for ratification by the senate.

The Chair moved the ratification.  Jim Fitz-Gerald seconded.
Discussion – several schools have extended the contracts for those within the three-year contract.
Peter Norton: the policy has heavily favored three-year contracts. The resolution does not say you get an automatic extension. The schools were explicit in extensions within those with three-year contracts.  If deans have an issue, they can always go to the provost. There were issues in the past where deans skirted around the policy. We have one faculty.
Vote for ratification
The resolution was passed unanimously.
Election 2020: Candidates Statements
ExCo at Large Nominees
Nominating Committee Nominees
Anko Bodroghkozy, A&S (Media Studies)

At-large on ExCo. Three year member. Diversity & Inclusion Committee assignment. Wanted to see more transparency on ExCo by being more responsive to the full Senate. Major contribution is the Ad hoc committee for scope of employment. Want to see faculty are fully engaged with administration in protecting the mission of the university.

Benjamin Castleman, Curry

First year on the Faculty Senate. His research focuses on the economics of education and policy and programs strengthen employment outcomes for under-represented populations. He co-leads Curry for Data science co-laboratory which aims to integrate data science with education research. Co-leads the Virginia Policy partnership which brings faculty from across the state schools with local at state government. A potential role for him would bring complimentary experience to ExCo. Belief in the importance of University to lead and promote diversity. Uses evidence-based policy decision-making.

Jim Fitz-Gerald, SEAS

Member of faculty since 2000, teaches and mentors students. Research area data processing, enhanced therapeutics and biotechnology. See position to learn and provide input. Served at served at various levels at the university and in the community. Critical thinking is required as we strive to overcome obstacles before us.

James Savage, A&S (Politics)

Is applying to serve his second term on ExCo. He supports UVA's efforts to combat the virus, but also wants to ensure our rights to participate meaningfully in UVA's decisions are protected. During the financial crises he served with presidents Casteen and Sullivan. He is also co-chair of the Senate Finance committee and worked with all levels of the administration. He's also served in the College on committees. He advocates for a strong Faculty Senate.
Floor Nominee
Hanadi Al-Samman, A&S (MESALC)
Has been on the Senate for two years. Serves on the Grievance Committee and on the Women's Leadership Council for the University. Served as President, Association for Middle East Women's Studies. Wants to increase transparency and address tensions between ExCo and the Full Senate. Served on committees to increase diversity university-wide. A needed voice.
Chair-Elect Nominees
Nominating Committee Nominee
Rasheed Balogun, ExCo at Large, SOM
Been in Senate since 2010. Much of his time on the FRRR&W committee. Believes in shared governance principle. Strong senators make the senate strong. The leadership are the servants of the senate as a body. Most important that each senator should have a voice. Most of the discussion in the future will be electronic in the future. He helped develop a faculty handbook that is a living document. He also spoke of other work and accomplishments.
Floor Nominee
Susan Kirk, SOM

She has been approached a couple times over the years to be in FS leadership but did not think she could balance the responsibility with her professional duties. This changed with the advent of Covid. She believes there will be no normal, and it will be up to the Faculty Senate to help shape and define what the future is. She'd like to be part of that. When she became chair of accredited council at SOM more that 80 % were white males. She leaves that role with many other underrepresented populations represented. Post – Covid we will have to embrace a diversity of opinions and ideas to become a better Faculty Senate.
The Chair said there will be a follow up email to explain voting process on Collab. Emails coming out requesting assignments. Chair has sent out emails to deans of all the schools to ensure a full cohort of Senators.
Chair asked senators to run for re-election if schools have not already picked.
The Chair recognized Peter Brunjes for the work he's done as he rotated through the chair positions and service on the BOV on behalf of the Faculty Senate.
Rob Patterson moved the meeting be closed.
Brunjes, in a last, dernier action officielle, seconded the motion.
It passed with acclaim.